NMR Tested Raw Honey
Regular price
₹ 1,349
Sale price
₹ 1,065
Save ₹ 284
Unit price
per
Sale
Sold out
Limited Stock Available!!
🤑 Save Flat ₹150 on your order by paying online
Free Shipping on orders over ₹599
This one-of-a-kind weekly honey pouch consists of rich, raw and organic honey with easy-to-open caps and can be carried everywhere easily for your outings and holidays. Enjoy the delicious taste and natural health benefits of raw and organic honey in a convenient, portable package.
Delivery Estimated Delivery Period - 5-6 days
Our raw honey is free from additives and has not undergone pasteurization, making it naturally shelf-stable and able to last indefinitely when stored properly.
Share
View full details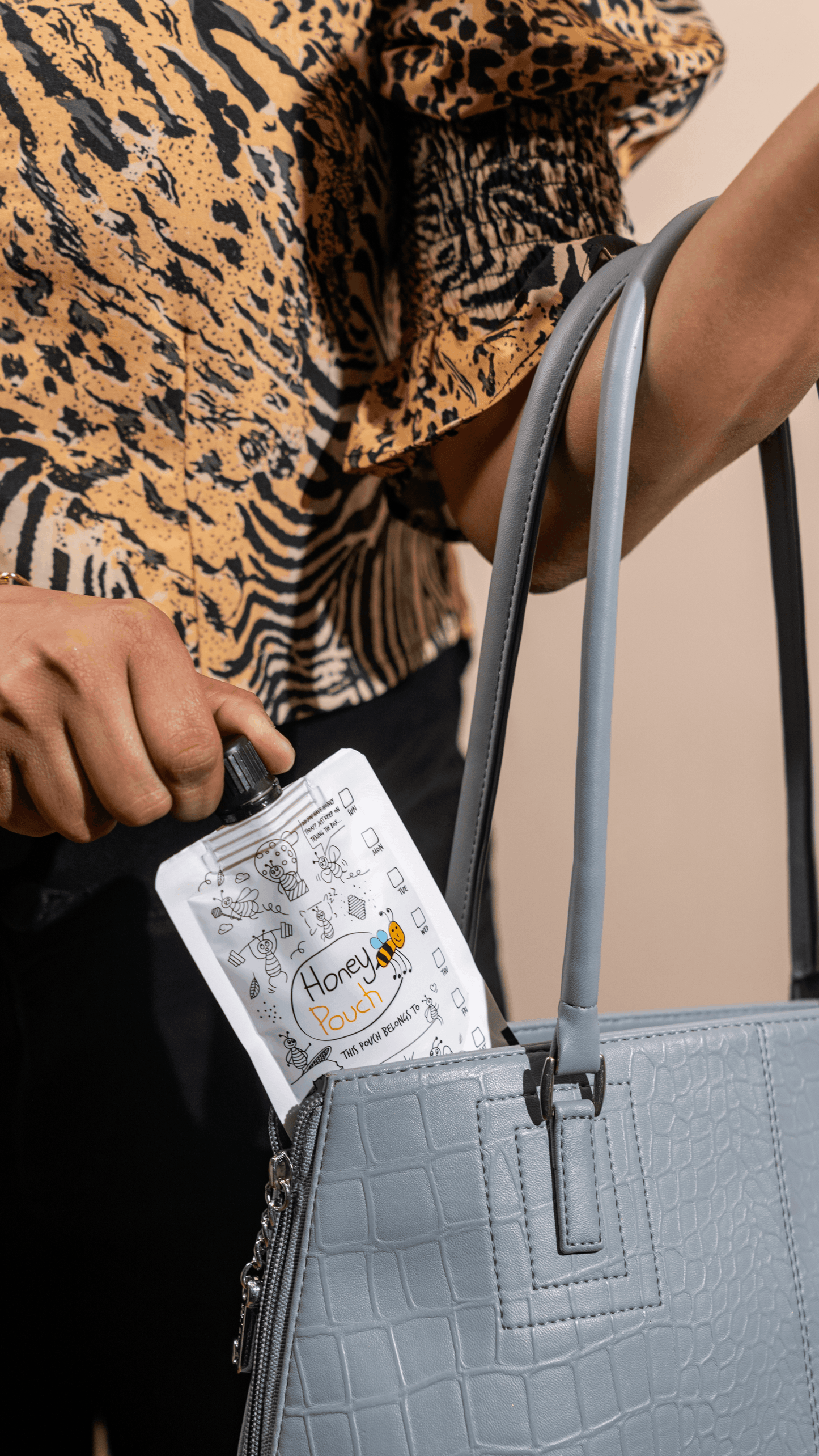 Product Details
Description

The perfect on-the-go honey experience!

Enjoy rich, raw honey with easy-to-open caps, anytime, anywhere. It's interactive too – tick off the days you've had your honey!

Honey All Day's 100% pure, raw & unfiltered honey pouch delivers a distinct woody taste in a sustainable and convenient package. It's simply irresistible!

Ideal for lunch boxes, backpacks, and commutes, our "ON THE GO" honey pouch is a must-have. Available in a handy combo pack.

Indulge in 70 grams of the purest, raw honey India has to offer. Convenience meets deliciousness!

Experience the best of our Honey Pouch today.

Benefits

1. 100% pure and unfiltered honey with a distinct woody taste
2. Rich in natural health benefits
3. Convenient and portable packaging option
4. Organic honey is free from harmful pesticides and chemicals
5. Delicious taste that can be enjoyed as a natural sweetener in various foods and beverages.
6. Rich in Antioxidants
7. Boosts Immunity

Dimensions & Weight

Pack: Pack Of 12, Pack Of 8, Pack Of 4
Benefits
Energy Booster

Improves Gut Health

Improve Skin Texture
Why is our honey expensive?
1. Complex extraction and cold processed It need specialized equipment, and careful handling that increase production costs.

2. Limited supply Due to small-scale beekeepers using traditional methods, leading to higher prices.

3. Higher nutritional value It retains natural nutrients and enzymes, making it a healthier option.

4. Better taste It tastes amazing and is richer, due to the presence of pollen and other compounds.
Honey's Perfect Partners
Beverages

Embrace a healthier alternative by replacing sugar with the wholesome allure of honey, enriching your beverages with its unique flavor

Baked Goods

Adding a touch of nature's sweetness to my baked creations with a generous drizzle of luscious honey.

Nuts

Perfect for layering in parfaits, pouring over fruity pancakes and salads, adding to smoothies, brushing on fruit before grilling, drizzling on nut butters, taming the bitter or sour flavor of certain fruits and glazing different nuts.

Oat Meal

Sweetening up my morning with a drizzle of golden honey in my nourishing oatmeal bowl

Herbs and Spices

Infuse honey with different herbs and spices. Add to sauces with Italian seasonings, Indian cooking, Mexican dishes, stews, marinades, glazes, salad dressing and pizza dough.

Poultry

Produces a sweet, fresh flavor in BBQ and Chicken wing sauces, marinades and glazes. Rub on chicken, duck and turkey for an added sheen and crisp skin. Brush on grilled kababs and skewers for added flavor. Include in dipping sauces for fried chicken.
Bee Amazing with Honey All Day !